Method
The 10F-Reitan Catheter Pump (10F-RCP) is a short term intra-aortic percutaneous circulatory support device which is inserted through a 10F sheath in the femoral artery.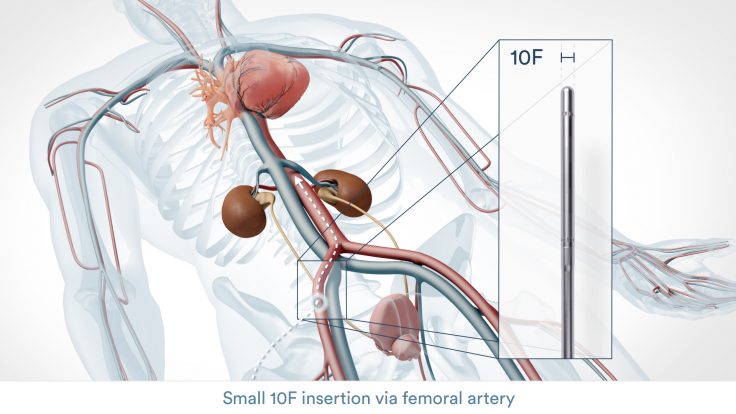 The closed pump head at the tip of the catheter is advanced up to the descending aorta. Once in position the protective cage is opened and the propeller arms are unfolded. The 10F-RCP's mode of action is that of an axial flow pump where flow and pressure are functions of the rotational speed.
The 10F-RCP is accelerating the intra-aortic blood flow. Blood pressure in the aortic arch is decreased, whereas blood pressure in the abdominal aorta is increased the physiological pulsatility remains unchanged.
As a result the 10F-RCP creates a difference of approximately 10 mmHg between femoral and radial blood pressure. The reduced pressure in the aortic arch – known as afterload reduction – decreases the work load for the impaired left ventricle and thus enables the heart to gradually increase the cardiac output.
The clinical effects of enhanced kidney function – based on improved pressure and flow in the abdominal aorta – can be observed as an increase in urine output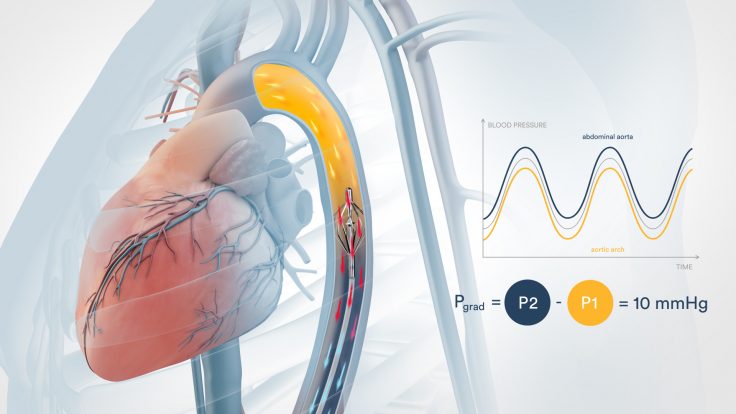 and decongestion of acute decompensated heart failure patients. The 10F-RCP addresses the two major issues of acute decompensated heart failure: declining renal and cardiac function also known as cardio-renal syndrome. The afterload reduction ultimately results in an increased cardiac output.
The increased perfusion improves the kidney function. The 10F-RCP facilitates excess fluid removal so a further decompensation may be prevented.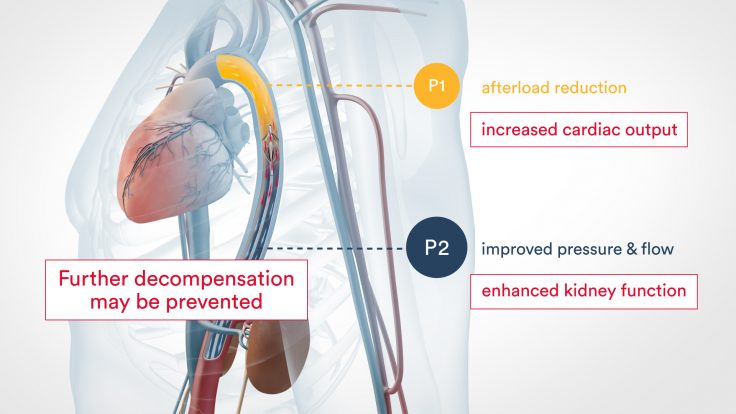 The supportive effect of the 10F-RCP is twofold and can help to restore the acute decompensated heart failure patient to a stable level.